AMENITIES
The Meadow Lakes II amenities include our private pool, tennis courts, clubhouse, and several beautiful lakes.
POOL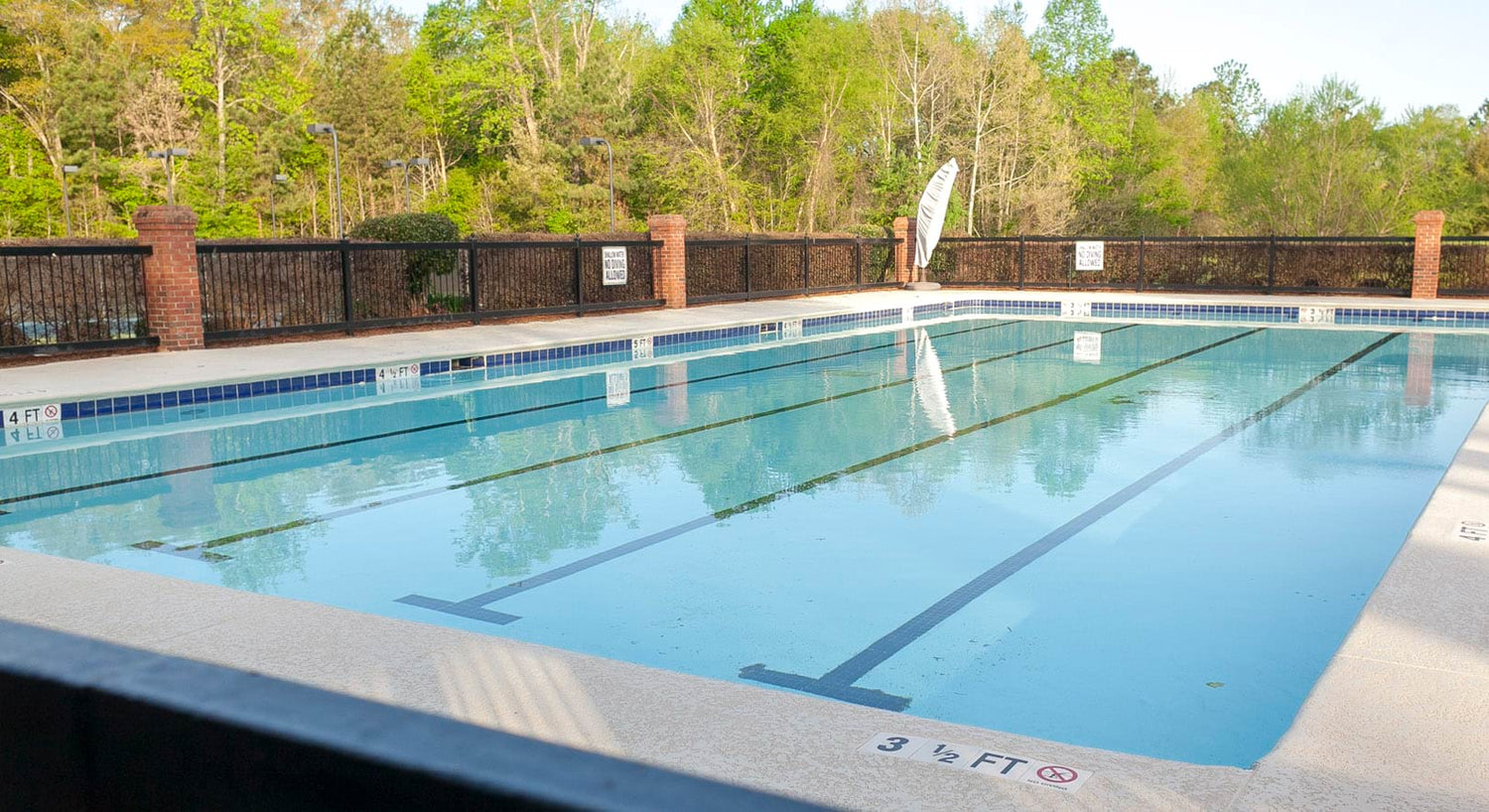 Hours

Open 9 am to 9 pm daily

Memorial Day through Labor Day Weekend

The pool is closed at night
General Pool Rules

The ML II pool is open for HOA members and their guests only. A guest must be accompanied by a member at all times. Members should bring their amenities cards to enter the pool, and they should sign in (along with guests) at the gate.

If you are an HOA member and would like to have a party at the pool, please speak with the Swim Club Management Group head lifeguard or call 704-766-2726 and mention you are with Meadow Lakes Two to discuss the details. Private parties cannot exclusively reserve the pool, its surrounding patio, or the pavillion. Each party will be required to hire at least one lifeguard regardless of the amount of HOA members using the pool at that time.

General Pool Rules: (Including the minimum requirements by SCDHEC, revised 2009)

Use of the pool is at your own risk, MLII Association is not responsible for accidents or injuries.

Bathers shall shower before entering the pool.

No swimming without a lifeguard present.

No running, pushing, boisterous or rough play, or profanity in and around the pool.

No person under the influence of alcohol or drugs shall use the pool.

No spitting or blowing nose in the pool.

Children in diapers must wear a swim diaper while using the pool.

Persons with diarrhea illness, nausea, skin, eye, ear or respiratory infections, open lesions, wounds or bandages shall not use the pool.

No animals or pets allowed in the pool or its enclosure.

No glass allowed in the pool, on the deck or in its enclosure.

No children under the age of 13 shall use the pool without adult supervision.
Pool Rules for Events, Activities and Private Parties

1. Only Meadow Lakes II members are allowed to reserve the community pool for events, activities or private parties. Below is the procedure for such usage.

2. ML2 residents are allowed up to two guests each. A resident is defined as someone permanently residing at a Meadow Lakes II address (adult or child). Groups of ten or less cannot nor need not reserve the pool enclosure, the pool, pool furniture, or notify the lifeguard of their attendance. A group of up to ten persons is considered within the normal range of pool membership usage for members and their guests.

3. Each address is allowed no more than six guests for a total of ten persons signed in from any one address or pool tag. Exception may be made for larger families on a case-by-case bases and with the approval of the Pool Manager. Safety and child to adult ratio will be important factors in making all exceptions.

4. The person scheduling the event is required to sign in all their guests under their address or pool tag number and shall take full responsibility for any actions, injuries, or damages that occur during the scheduled event. A damage deposit may be required.

5. For a private activity, event, or party the following additional procedures apply:

- For a gathering of more than ten total users (total residents and guests) a request form must be filled out, signed, and given to the lifeguard at least seven days before the event. Reservations are to discussed with Swim Club's managing lifeguard. Contact information can be obtained from the lifeguards.

- The resident will be required to hire an additional lifeguard at the standard rate for the total amount of time the group remains within the pool enclosure (a minimum charge rate applies).

- There must be no more than a three to one ratio of children to adults in the group, and the adults must keep watch of their underage pool users (underage includes children under the age of 18 years old).

- All pool rules remain in effect during the private activity.

- If there is any concern for safety, the lifeguard on duty has the right to ask any and all guest and residence to leave the pool area for the security of other pool users.

- No grills in or around the pool enclosure; no drinks in glass containers; no more than three tables may be reserved for any sized party; decorations must be confined to one area and not obstruct the responsibilities of the lifeguard; all trash is the responsibility of the party host.

- The pool management company may have additional rules and expectations beyond those stated by the ML2 Board. Please consult the head lifeguard for such policies.

6. The pool enclosure area (patio inside the fence) cannot be exclusively reserved for private parties during normal pool hours.

7. The maximum group size for any one activity, event, or private party within the pool enclosure is 50 per day, excluding holidays or ML2 special events that use the pool enclosure area. Exception may be made on a case-by-case basis pending the Pool Manager's authorization. No more than the requested number of pool users, as stated on the pool party contract, will be permitted in the pool enclosure.

ML2 Board and its Pool Manager reserve the right to deny pool usage if for any reason there is cause to believe such an even may create an unsafe environment or damage to ML2 property.

9. Groups that show up unannounced or who do not follow the procedures above will be denied access to the pool enclosure area until such time such the policy is followed.
TENNIS
General Rules

The ML II tennis courts are for use by HOA members and guests only. Members should have their ML II fobs with them at the courts, and members should accompany guests.

Please use the sign-up sheet at the courts to reserve a court for your match. Reserved courts are honored over walk-ons.

Contact ML II HOA board member, Sue Cromar, at 704-308-0355 if you have questions, comments, or suggestions about the tennis courts.

Please follow these additional rules as well as those posted at courts:

Tennis courts are for the exclusive use of Meadow Lakes II HOA members and their guests. A guest must be accompanied by a member at all times.
Tennis courts are to be used for tennis only. No skateboards, bicycles, roller blades, scooters, football or soccer games, etc.
Please close the gates when leaving the courts.
Please place all trash in trash receptacles. Please help empty the trash receptacles before they overflow. Trash may be disposed of in the dumpster next to the clubhouse.
Players without reservations must yield to those who have reservations, so please book your courts to avoid any conflicts.
CLUBHOUSE
General Info

The Meadow Lakes II Clubhouse is the perfect setting for small weddings, receptions, reunions, or any special occasion.

The Clubhouse is available daily for both indoor and outdoor events. With 2,000 square feet of interior space, the venue can accommodate events for up to 150 persons. On-site tables and chairs are included with the rental.

Meadow Lakes II Clubhouse provides beautiful views of the lake as well as parking, a fully functional kitchen, coat rooms, and enclosed granite bar. Guests may choose their own caterer.

High, pitched ceiling with variable lighting set a unique ambiance.
Beautiful front entrance to the clubhouse is perfect for VIP arrivals and departures, as well as photo opportunities.

For venue information or to check availability and make reservations, contact Ashley Singleton.
LAKES
General Info

There are five beautiful lakes in Meadow Lakes II.

Four of these lakes are owned by the Meadow Lakes II Homeowners Association (ML II HOA). These are Lake Churchill (behind the clubhouse), Lake Carroll (first lake on the right entering ML II on Jack White Drive), Lake Miller (third lake on the right entering ML II on Jack White Drive), and Lake Charlotte (seen from Jack White Drive).

The other lake is Lake Albert and remains the private property of association members who own lots adjacent to it.

The four lakes owned by the ML II HOA are for use by members of the association and their guests (with a maximum of two guests per member). Members must accompany guests while using (fishing, boating, etc.) these lakes. Members must possess an ID or amenities card while using these lakes. While using these lakes, members and guests must be respectful of those who own homes and lots around the lakes. Members and guests must not park any vehicle (including golf carts) on the grass around the lakes.

The ML II HOA has an agreement with the Rock Hill Police Department to enforce city trespassing laws.

Below is the official lake use policy adopted by the ML II HOA board of directors on April 23, 2013 and revised September 4, 2013. For other lake rules, please see the ML II HOA Restrictive Covenants and Bylaws posted elsewhere on this website.
General Rules

Access to Meadow Lakes II Home Owner Association (ML II HOA) managed lakes (Lake Carroll, Lake Miller Lake Charlotte and Lake Churchill), properties (common area like entrances), and amenities (clubhouse, tennis courts, parking lots, pool) shall be for the exclusive use of ML II HOA members and their guests (Exception is clubhouse rentals). Guests must be accompanied by an ML II HOA member.

When requested, ML II HOA members, utilizing ML II HOA managed lakes, properties, and amenities, must provide an ML II HOA amenities card or a picture ID showing a current Meadow Lakes II resident address.

Written or verbal permission by an ML II HOA member shall not be adequate for legal access to ML II HOA managed lakes, properties, or amenities. Individuals in violation of these rules found on ML II HOA managed lakes, properties, or using its amenities are subject to city trespassing violations and will be immediately asked to leave the premises and/or fined by the Rock Hill Police Department.

ML II HOA members and their guests accessing ML II HOA managed lakes, properties, or amenities shall not infringe upon any private property.

Up to two guests (identical with pool rules) may accompany an ML II HOA member.

Vehicles, including golf carts, shall remain on the street or parking lots, and not be driven on grassy areas. Boat launching shall be from ML II HOA managed property only, unless a resident with property contiguous to a lake gives access permission.

Accompanying a guest on ML II HOA managed lakes, properties, or amenities means members take full responsibility for any liabilities that may occur when with the guest(s) on ML II HOA managed lakes, properties, or amenities.

Note 1: The primary reason for limiting access to ML II HOA managed properties is for the privacy and safety of ML II HOA members as trespassing may pose potential theft, abuse, privacy violation, or damage of private or association property concerns.

Note 2: Lake Albert is privately owned by the members whose property adjoins the lake. These owners establish the rules by which this lake is utilized and by whom.